Some say it takes a village to raise a child and those in the film industry know it takes an army to make a film. If you don't believe us, just look at the credits at the end of nearly any film. Until now, we've managed to get by with a small team, but it's time for us to grow. We are excited to announce we are recruiting homeschoolers to help with research and marketing of the film.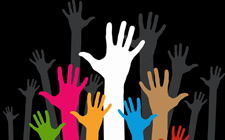 If you, or someone you know, is interested in helping us reach out to homeschool groups and the masses and can spare a little time, we'd like them to fill out the form below. Depending on their efforts, volunteers will be rewarded with various perks and prizes, including various levels of credit in the film, sneak previews of footage, signed DVD copies, private screening invites, and exclusive phone calls and communication with the filmmakers. They'll also be rewarded with the knowledge that they helped paint a better & more accurate picture of homeschooling to the general public.
Please share this page with your friends and followers and consider volunteering yourself as this effort can benefit from even small contributions of time. Volunteers can be anyone 13 and up from any type of homeschooling background – in fact, the more diverse the volunteers in location, skills, & homeschool ties the better.
Thank you for your consideration. We promise it will be a fun & fulfilling experience!
Be sure to scroll to the bottom of the form and click the submit button. If it doesn't load for you correctly, use this link.