We're back from the Homeschool Association of California (HSC) conference and gathering ourselves after three days of work and fun. On Saturday, we had  a great turnout for the screening of the teaser trailer and the additional footage we showed, lots of applause and some good comments and discussion. Overall it was a great success and everybody in attendance seemed very excited about the film and where we are headed.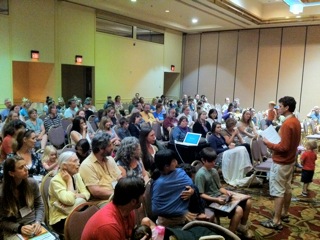 On Sunday, we interviewed Dale Stephens which was fantastic. If you didn't get a chance to hear him speak at the conference, then please check out his website. The work he's doing is really inspirational.
Special thanks to Jen Prink for making it possible for us to present on such short notice and thanks to all of you who attended, it was wonderful to put faces to names of people that have been following us for a while and to meet lots of new folks also. For those of you who had information and stories to share with us, please be sure to contact us and let us know. We'd love to hear from you as it was impossible to remember everything everyone said and we don't want important information to fall through the cracks.