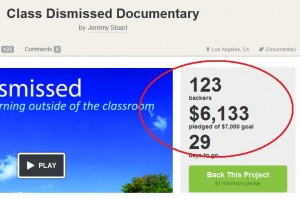 With 29 days left in our Kickstarter campaign, things couldn't have gone any better. We are already 88% funded thanks to the kind contributions from 123 different families. We can't give up as we won't receive any of the money if we don't reach the $7,000 goal (Kickstarter is all or nothing).
If you've thought about contributing, or are interested in owning a copy of the film or seeing your name in the credits, please consider pushing us past our $7k goal by visiting our campaign: Class Dismissed Kickstarter Campaign
If you've already contributed, please think about people you know who would be interested in the film. This documentary even appeals to people who haven't discovered homeschooling yet. We've been careful to not call out homeschooling in the wording of the campaign so those who are fans of alternative education will consider the unique aspects of educating outside the classroom that will be shown in the film.
Thanks again to all who have contributed to this campaign, or our previous Indiegogo campaign, or have shared the film with others who might contribute or spread the word. We're excited to wrap up the film and share it with the world!