Today, October 15th, marks the one-year anniversary of the world premiere of Class Dismissed! On that fateful day a year ago, we screened the film publicly for the very first time to a packed theater in Los Angeles, California.
It was an amazing night, although it didn't begin that way.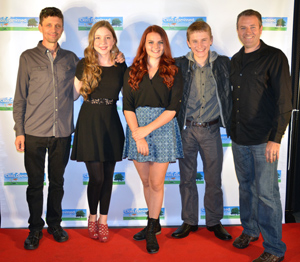 Last minute preparations had kept us frantic, pre-purchased ticket sales had been slower than we had hoped for, we discovered we lacked proper permits for our photo-shoot with our red-carpet celebrity guests, and we barely even had time to check the master playback to make sure the film looked and sounded good. When the lights went down and we took our seats in the audience, we were exhausted and neither Dustin nor I had any idea what to expect.
But 90 minutes later when the lights came back up, the air was electric. Somehow we had pulled it off and the applause and comments from the audience during the Q&A validated everything we had gone through the four years leading up to it.
That night kicked off a whirlwind 32-city theater tour with more than half the dates selling out in advance. Combine that with over 275 community-organized screenings in 7 countries and we've come a long way since that first night!

So to celebrate our one-year anniversary, we're having a special 3-day sale! For the next 72 hours you can get 30% off the cost of renting Class Dismissed and/or $25 off a screener pack. 
So if you haven't seen the movie yet, now is the time. Or if you have seen it & enjoyed it, consider sharing it with your community (the screener pack comes with a license to screen the film).
To rent at a discount, simply visit http://rent.classdismissedmovie.com/ and enter the code: oneyearspecial into the coupon box upon checkout. Then grab some popcorn and enjoy the movie in the comfort of your own home.
To purchase a screener pack at a $25 discount, visit this page: http://classdismissedmovie.com/see-the-film/screener-pack/
Thank you for coming on this journey with us, enjoy the movie and as always thanks so much for your support.
Jeremy & Dustin