Last week we started the homeschool journey with a family who pulled their kids out of one of the best public schools in Los Angeles. This family will drive the narrative story of our film. Their reasons for pulling their kids out of school wasn't what you might expect.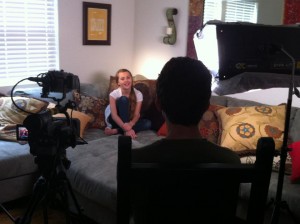 They did not pull them out because of grades, bullying, bad teachers or administrators. It was the recognition that their two daughters were losing interest in learning and what was being taught in the classroom was not being absorbed, nor was it useful in real life.
With our limited shooting budget, we can't afford to film several families, nor have a family back out after starting the filming process. So we had to be very careful in selecting the right family. Months ago Jeremy & I both met with the family separately and we both came away knowing this was the perfect family for our film.
We only had three days to shoot last week and there were a few unknown variables that we had to contend with:
Airplane noise: this family lives close to LAX & there are plenty of planes flying overhead. Would we be able to capture great audio?
The family: would they interview well, would they be comfortable in front of the camera, would they get comfortable with us being in their home?
The DP: Knowing we would be filming in LA, we needed a director of photography based there. Jeremy knew Billy from work decades ago, but had never worked directly with him (Jeremy had edited some of Billy's footage back in the day). And I had never met Billy. Would the three of us make a good team?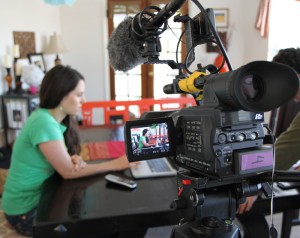 Monday morning we found out the answers to all these questions. The family was great on camera, Billy was a great match, and the airplane noise wasn't a problem. Over the next couple days our relationship with the family grew as did the mutual trust. The camera became invisible and the story unfolded.
The only thing that went wrong was a single piece of hair. Reviewing footage Monday evening, we noticed a strange line in the footage from one of our cameras. Turns out a single piece of hair was lodged inside the camera's housing. The good news is that it was not critical footage (not an interview or important moment that could not be recreated). We were working together so well together that recapturing the footage the next day wasn't a problem.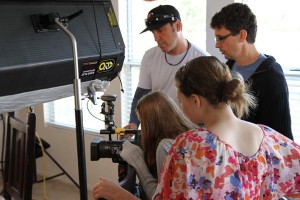 They say the most important thing to keep in mind when starting a business, or hiring a film crew is to pick people you like, because you'll be spending a lot of time with them! I'm happy to say both the crew and the family are fantastic! We can't wait to film again in May.
Our next post will be about our NY trip that is wrapping up today. Let us know if you enjoy hearing how the production is going. Thanks again for your support in this adventure!