We just got back from Oregon where we spent 5 very busy days shooting footage at Village Home, an incredible home education resource center just outside of Portland. In addition to shooting a total of 12 interviews with families, we also filmed hours of awesome footage of the various activities, classes and workshops that Village Home provides to the Portland area homeschooling community. The experience was nothing short of amazing, from the staff members and  teachers, to the kids, parents and volunteers; it's rare to come across a community as vibrant and dynamic. We've certainly never seen anything quite like it. What Village Home has created is truly unique and revolutionary and we left deeply inspired by what can happen when people with a common vision rally together to create something extraordinary.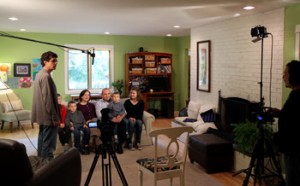 Although on the surface, Village Home looks like a school complete with classrooms, teachers and schedules, in action it's anything but. For a start everyone is there because they're choosing to be! The kids who attend choose classes that interest them and are allowed to learn in their own way at their own pace, and their enthusiasm about life and learning is palpable and infectious. Every city in America needs a place like Village Home.
We'd like to extend a very special thank you to Lori Walker and Cathie Clifford who made it all happen, and we're so grateful to the entire community for giving our film crew such a warm welcome and making sure we felt like part of the family. They even made us a cake!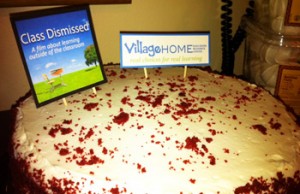 Thanks also to Ben Dominguez and Mitchell Lenneville-Hutchinson, two budding filmmakers who volunteered their time to help us with our filming and to all the families who shared their inspiring stories about homeschooling with us. What we saw and captured at Village speaks volumes about how great alternative education can be and will add so much dimension to our film.