We just got back from Los Angeles and another successful shoot with the main family in our film. This trip we spent time in a cool looking downtown warehouse at a video game company where the girls got to design their own characters and play on the software used to create the art for video games. In a time when many schools are cutting art programs altogether, it was an amazing opportunity for the girls to hone their creative skills in a professional, high-level environment, using real-world tools.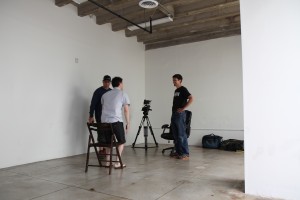 We also spent time in Hermosa Beach at "Beach Day" which is LA's equivalent of park day. In the summer, Beach Day is a regular event and there were lots of other homeschooling families present from many areas of Los Angeles. It was a great opportunity for the family to meet other homeschoolers, have fun in the waves and yes, dare I say the "S" word, socialize! Here's a shot of a quick interview we did on the beach, and contrary to popular belief, the sun doesn't always shine in LA. It actually got cloudy and a little cold and the girls were shivering!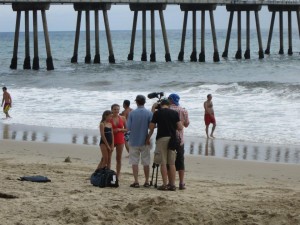 We'll continue to check back in with the family over the next few months, but in the meantime, we've got a few other things to accomplish, namely beginning the massive task of sifting through what we've shot with them so far so we can start putting together parts of their story. And we still have a few other people to track down and interview. More on that soon. Thanks for following our progress. We appreciate your support.